**Some of the links below are affiliate links, meaning, at no cost to you, we will earn a commission if you click through and make a purchase or sign up for a trial or program. We only promote items or services that we personally use and are proud to share.**
Walt Disney World Day Bag: What We Packed
Our first trip to Disney World was a hit! We packed three days full of fun as we visited Animal Kingdom, Epcot, and Magic Kingdom. What we did NOT pack full was our day bag. This was for a few reasons. First, we have been trying to downsize and minimize our lifestyle, even when in one of the most commercialized theme parks in the world. Second, we did not take a stroller- that's right! Disney with NO STROLLER. Be on the lookout for that post soon. So everything we carried in, we literally carried all day. And third, after reading all the internet about what other people take into Disney World, I realized we don't actually use half of that stuff so we didn't need to take it. Here is what we DID end up packing in our Walt Disney World Day bag.
What We Packed:
First our Day Bag was our regular, everyday backpack that we have carried since our son was born more than 3 years ago. We use a Northface Classic Borealis backpack in grey with orange accents. It has two outside water bottle pockets, a smaller zippered pocket for keys and such, and great organization inside. HERE is a link to the same bag, except in Red.
Inside We Packed:
A 32 oz Contingo water bottle. I know, you can get free water from quick service restaurants, but that water comes in a plastic cup with a plastic (or paper in Animal Kingom) straw. We're trying to make less waste so we settled for tap/fountain water. No complaints here!
Our Solve All Magic Salve from an apothecary friend. We use it on chapped lips, dry skin, cuts and scrapes. It goes everywhere with us.
An assortment of tissues- regular and Boogie Wipes as well as a traditional handkerchief.
A 3 oz tube of sunscreen with zinc oxide. We try to focus on physical protection- hats, clothing, etc, but we also cover the tops of ears, noses and shoulders if we are going to be outside for long periods (or if someone refuses to wear hats…).
5 Dollar Tree rain ponchos. Traditional rain gear would have been more sustainable and reusable, but it was 80* the whole time we were there and I could not rationalize packing jackets IN CASE of rain. These from Amazon also look promising with drawstring hoods and elastic wristbands.
A pair of cloth pads. I wore my silicone cup during our trip, but brought along a few pads to be safe.
A 2 pack of disposable toothbrushes. *I know! Not Zero Waste, but we have yet to have use them, so no waste made yet.*
A mini notebook, several pens and permanent markers, and a coloring pack from the Dollar Tree.
My favorite spray on hand sanitizer. Again- the packaging is not low waste, but the size is perfect for our bag because it fits in the pen holder.
Our *incredibly heavy* character signature book Disney Who's Who. This was great for the surprise characters we happened to run into, but it was definitely heavy. If I could do it over, I might have chosen a different book. But with all of the characters inside, the Meet and Greets we had were able to really customize their signatures- Anna from Frozen specifically drew a heart around Kristof, an X over Hans and a mustache on one of the little snowmen.
Another Dollar Tree purchase- a zippered eyeglass case to hold our first aid kit. Inside are a few bandaids, a contact case with ibuprofen, activated charcoal, benadryl and a few Tums, rewetting drops for my contacts, and a small bar of soap.
So many snacks! Packed inside a clear zipper bag (from buying sheets several years ago), security check in was a breeze. We packed apples, granola bars, almonds and pistachios, peanut butter crackers, and slices of cheese from a whole bar. We also stuck our lunch in here- sandwiches, premixed tuna with avocados, ironing board quesadillas and leftover pizza.
I cut down a plastic cutting board from Dollar Tree to use as a personal place mat, snack serving board, or a safe place for our son to stand when we have to change in a bathroom.
Next to the cutting board I stashed our trip agenda folder with all of our info and a few stickers to help stall while we waited in lines or on the bus.
Our wet bag folded up next to a flour sack towel. Obviously they are both used in case anything were to become wet.
A clear gallon sized zipper bag with extra clothes for our son. Again, the clear bag made this a breeze in security.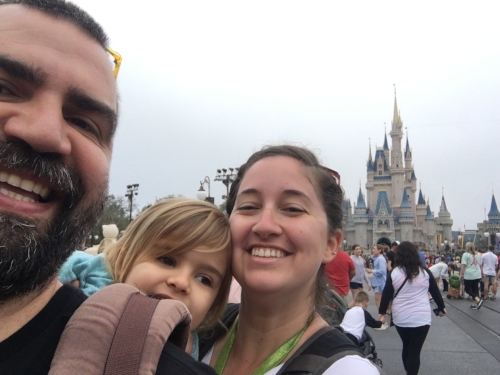 Now that I pull it all out, this still looks like tons of stuff. I can't wait to try to trim it down even MORE next time. Here's looking at YOU signature book.