For Nico's first birthday party, we had a 6 piece band on our front porch and a wood burning, mobile pizza oven in the front yard. For his 4th birthday we celebrated in Italy and I wanted his party to be just as special. He and I spent 3 days putting together these No Plastic, No Waste, No Cost party favors that combined his favorite things: beach combing, painting, and story telling.
No Plastic, No Waste, Birthday Party Favor DIY
I love a good party. I love the planning and the prep and making the decorations. I love making our guests feel special and welcome. But it is also important to our family to maintain our dedication to low waste and intentional living.
Normally, I would pass over the party favors for custom To Go bags (back in Oxford, we have a Doggy Bag stamp with a custom rendering of my beloved Border Collie mix Cheezburger) to fill with left overs or special snacks for the road. But since kids were the main focus of this birthday party extravaganza, I wanted to create something special to take home.
Also, since moving to Italy, I have nothing but time on my hands. We have begun rebuilding our art supply collection and hours of beach combing have amassed a large collection of shells, sea glass and stones. All of this and an eye on my budget led me to create party favors that combined our family's commitment to low waste and plastic free toys, while also allowing me to flex my creative muscles.
Another consideration for these stones was the fact that not all of our guests spoke the same language, and were all different ages. I wanted to pass on a gift that was a little bit timeless, adaptable to different children, and easy to play between siblings. Easy to travel and build upon were also big pluses.
What I came up with were a combination of some of Nico's favorite games- color based dominoes on one side with simple black lined story stones on the other.
The process of making the stones was fairly easy. It took several days to allow the paint to fully dry. It also seems all projects take longer on this side of the Atlantic.
The first step was to spend a beautiful morning at the beach. We took our time over three hours selecting roughly 100 stones to bring home. The entire family helped. We took a picnic lunch and played in the waves and collected stones. A great first step for any project.
You can see we ended up with some bigger, some smaller, even some bits of sea pottery. I wanted a large arrangement and we got it. I brought the stones home, rinsed them well and soaked them in white vinegar and water (1:2) over night. I rinsed them again the next morning and laid them out to dry.
When everyone was dry and ready for paint, I laid out the supplies I had on hand- some paint, a brush, a large piece of paper to paint on, and a napkin where I poured out the paint I was going to use. Very fancy set up. I used regular children's washable paint. I could have probably gotten richer, thicker color with adult paint, but this is what we had and it worked fine.
My process was to create 6 rows. Across the bottom of each stone on each row, I painted the same color. Then across the top of each stone, I alternated between the same 6 colors. I chose the number 6 because that is how many dots are on dominoes, and I figured it was a safe bet. Afterward I realized that there are actually 7 numbers on dominoes if you count "blank", so you do you.
Some colors took several coats (yellow), some colors were crisp and clean with 2 coats (white). I just kept going until I liked the depth and consistency. When everyone was painted, they still looked a little unfinished so I added black lines with a permanent felt tipped marker. Much better!
Again, after everyone was good and dry I flipped them over and started adding story stone elements. I just made these up as I went along. There were several stick figures (boys, girls, adults and children), lots of animals (snake, snail, elephant, pig, lion), insects (dragonfly, butterfly, lady bug), housing (castle, house, tree), and some general story bits (sunset/rise, mountain, question mark, moon, arrow, gift, letter, sword, key).
When all was done, I took all the stones outside for a good two coats of clear acrylic spray paint on both sides. You could probably use clear nail polish if you wanted a super hard, fast drying single coat. This part took the longest because I kept forgetting them between coats and it was several hours before I would add another one.
And then they were done!
To collect the stones for each guest, I whip stitched small pouches out of brown felt. I added a strip of ribbon so the pouches could be worn around the neck and carried around. Inside each pouch I nestled 10 stones, careful to have a fairly even "set". I just looked at the stones and made sure all colors were represented more or less evenly.
During the party, I "hid" the pouches full of stones inside our laser maze. The maze was just 4 yard chairs with long bamboo poles between them on the arms and between the backs. I laced streamers between them to make a maze for the kids to climb through. The object was to get through the maze without touching the streamers and pick up a pouch.
All of the kids loved the maze. They kept going through over and over, racing each other and going backward and forward. Definitely worth the 10 minutes of set up time.
These streamers were recycled from the morning of NIco's actual birthday. We made a path leading from his bed, winding through the house with lots of little gifts (stickers, a Pez dispenser, new toothbrushes) that ultimately led to his "big" gifts. Since we try to keep gifts simple this draws out the excitement and reduces the need for wrappings. After the party I just rolled the streamers back up and stashed them away to be used again for Christmas- the green color will look great with paper stars and poinsettias.
The kids loved the stones. They instinctively knew how to match the colors between themselves to make long, meandering lines and the pictures led to lots of language learning between speakers.
I promised all of the parents I would type up a DIY to add to their collections after they got home and here it is!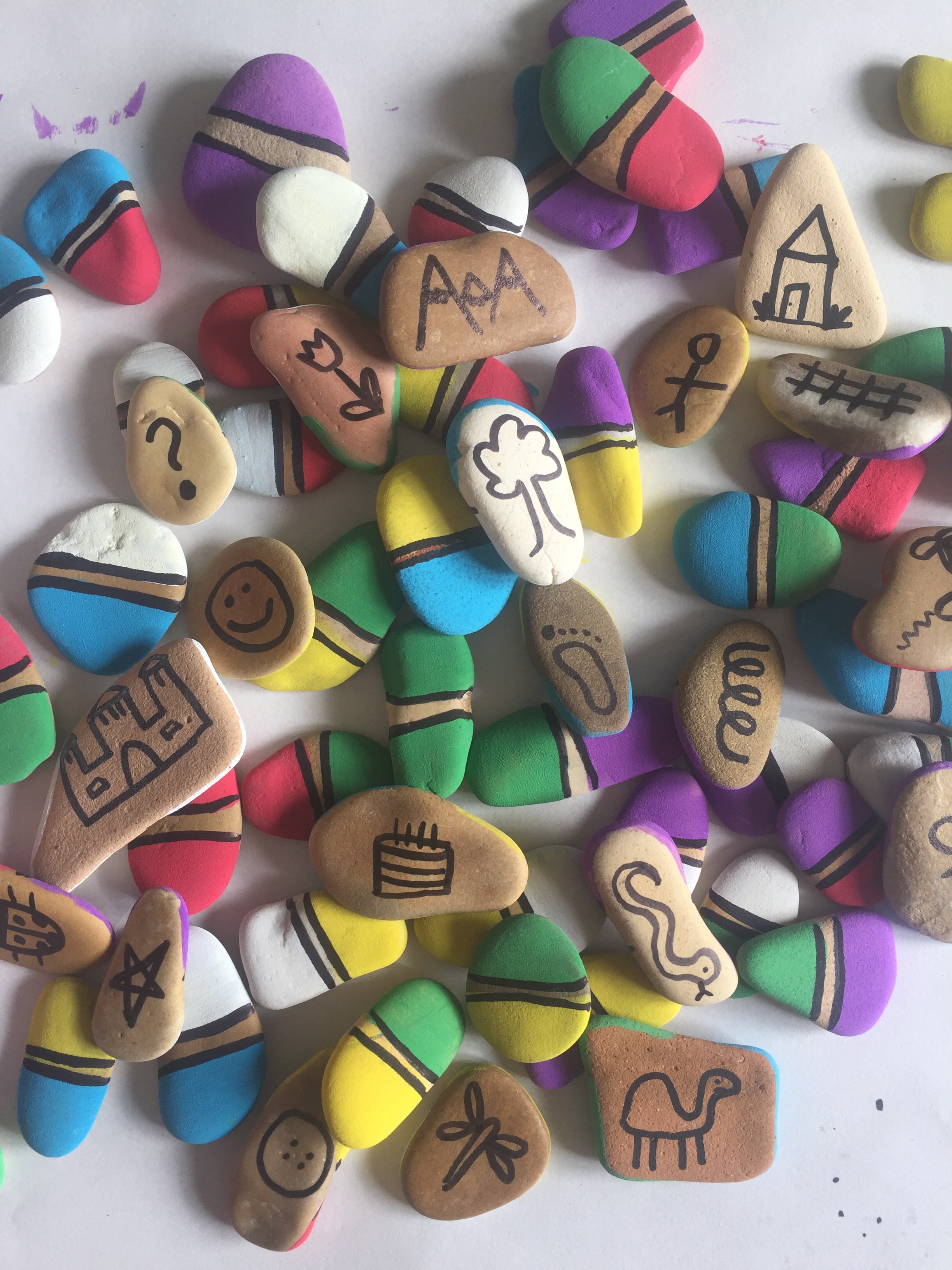 5 Things I Loved About This DIY
It is two toys in one! Twice the fun in half the space.
Guests can add to their collections over time by finding their own stones and painting or drawing more elements.
When we see our guests over the next two years, the children already have a common toy they can play together.
Collaborative games are amazing. No one is worried about winning and everyone learns.
No plastic and No waste! A real, thoughtful favor that grows and develops with our children but does not contribute to the plastic junk collecting under the couch. Once they have served their purpose, I imagine Nico and I hiding the stones in our Geocache adventures. The gift that keeps on giving!