Inspired by Rebekah and Justin Rhodes over on AbundantPermaculture.com- we are going to "just start planting". In an attempt to get caught up on all we want to share, we are going to throw some stuff in the dirt and see what comes up. Enjoy these non-polished, less than perfect posts EVERY DAY this week.
When we rolled up to Shreveport for the first 3 day stop of our June road trip, I spent several minutes scrolling through Google for something special to keep Nico and me busy while Marco played chef with our friends over at Wine Country Bistro.
We had evening plans to check out the Shreveport Aquarium when it was too hot to be outside, but I wanted to find a fun park to wear us out so we were ready for rest and a swim back at our awesome hotel. What we were not ready for was the BEST PARK we have ever visited. Y'all. Seriously.
The Leaps and Bounds park by RightToPlay.org blew me away. The entire, massive equipment facility is wheelchair accessible. There is a sound garden AND an edible garden. There were a DOZEN swings. There was a splash pad! Plus, an entire toddler play space, green space, picnic tables, dozens of types of play equipment and the entire area was fenced in.
We spent three and a half hours playing at this park.
The area is connected to a school and a few other, smaller, older play grounds. There is also (what looks like) a quarter mile walking track that goes around the entire green area. Soccer fields were on the other side of the fence and of course there was a bathroom facility.
What I really like about the bathroom was there was a huge, long bench where someone could sit and wait for their party to finish their business or help a child change clothes without standing on the floor.
The bathroom also hosted a water fountain for easy refills.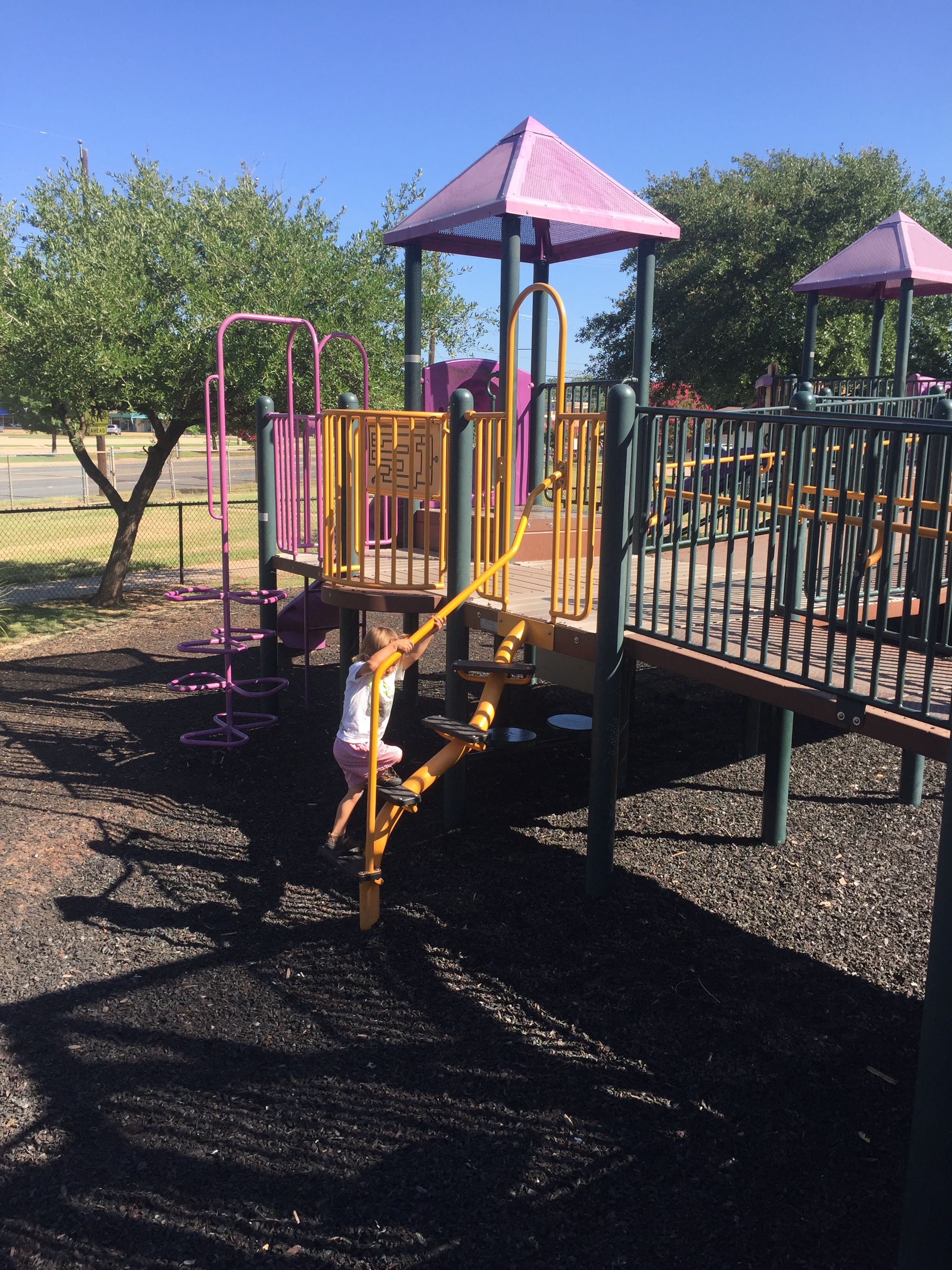 This park is right off Youree Drive in Shreveport. Also on that road are a Super Target (!), Kroger, tons of shopping and restaurants.
We hit up the park for several hours, stopped at Target for a quick walk through Bullseye's Playground, and headed back to our hotel for rest and swimming. But you could just as easily stop for breakfast at Rhino Coffee (like we did) and take it to the park before the sun got too hot or afterward for a quick lunch.
There was tons of shade at the Leaps and Bounds park. High noon was definitely hot, but with so much of the equipment off the ground, Nico and I were able to play underneath for a break in the heat. There was a puppet theater, house style door/windows, a store front and more! Nico had the great idea to turn our #familyhabit of collecting playground trash into collecting pirate treasure. We each pretended we were pirates trying to look for treasure. The pirate with the most treasure wins. Obvs.
The splash pad just off the playground was perfect for cooling off after our treasure hunt. Not too fancy with three fountains flush with the cement base, one tall umbrella style sprayer and a series of rainbow arches with misters, there was plenty for kids of all ages. We were there with kids age 18 months-ish to 10 years or so.
Parking for the park is technically behind the park, a short walk across the soccer field or around the walking path. We were able to park in school staff parking right in front of the school's libray on Youree Drive. *Pro tip: This parking lot was shaded. There was another small lot just down the street, but in full sun.*
If you look up A.C. Steere Park on Facebook or Google, it's the same space. Google lists opening hours at 3:00 pm. I assume this is because of the school directly connected via a short, covered sidewalk. We were there during summer break and the splash pad was up and running at 8:30 am both Tuesday and Wednesday.
We were even fortunate enough to meet one of the founding board members. She was there working on the edible garden and we were able to tell her all about our awesome park experience.
I cannot say enough awesome things about this park. I will be editing and adding more photos in the next few days (got this one post a day deadline I set out in the beginning of this post and every post this week), but trust me. It will be worth the wait. If you are visiting Shreveport, or living there (we heard from lots of people who had never been), this park is definitely worth an extended visit. Take a blanket, some towels and a lunch.
And if you do make it over, please tag us in your photos on Instagram @WhereWeAre.Family. We'd love to see other families loving this park as much as we did for three days!